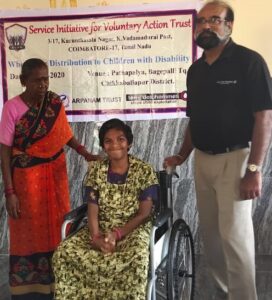 ARPANAM TRUST has provided the  wheelchairs and Bicycle to the vulnerable people (CWDs & PWDs) with the support of SIVA Trust 
ARPANAM Trust always strives to empower and develop the marginalised communities of Bagepalli taluk in Chikkaballapura district.
Recently, TdH-NL raised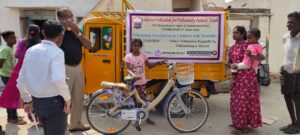 funds for children and persons with disabilities through the  SIVA Trust to provide wheelchairs and bicycles. The fund support was mobilised from an individual donor to purchase 14 wheelchairs and one bicycle for the 15 underprivileged children and persons with disabilities who belong to the poor families, who are earning their bread through agricultural and labour works. This was the dream come true for the families who were deprived of these facilities for a longer period of time and suffered much in their life in terms of mobility.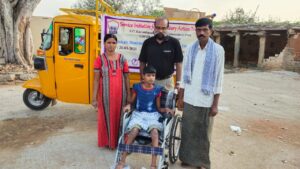 For this distribution programme, The ARPANAM Trust identified the underprivileged people and handed over the wheelchairs and bicycles to the beneficiaries in their respective villages.
The programme was organised by the ARPANAM Trust on 23rd March 2019 in Bagepalli Taluk. Mr. Ezekiel Kanavalli, Programme Officer, TdH-NL and the staff team of ARPANAM Trust were present on the occasion. Out of the  14
wheelchairs, 7 were provided to the girls and the other 7 were provided to the women, all having physical disability in movement. In addition to these, a bicycle was provided to a deaf and dumb girl, to go to her school.
The SIVA Trust has been instrumental in making this thing happen for the underprivileged children and persons with disabilities in the working area of ARPANAM Trust. For this noble act, all the beneficiaries are grateful to the donor forever. The ARPANAM Trust is also very much thankful and grateful to the support of the donor, Oculus D Studio, Bangalore.