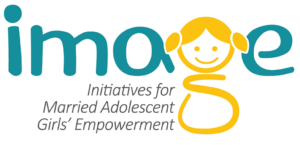 Initiative for Married Adolescent Girls Empowerment (IMAGE)
About Child Marriage in Karnataka
Karnataka accounts for 23.2 percent of child marriages in the Country. The practice is prevalent in almost all districts according to the Karnataka State Commission for Protection of Child Rights. Though the state has a strong framework of policies to ensure the safety and rights of girl child, in practical terms, it is not adhered rigorously. The practice is mostly found in socially and economically disadvantaged communities in rural areas. Poverty, migration, illiteracy, tradition, family pressure and fear of sexual violence are the major causes of early marriages.
 Our Approach to address it
Initiatives for Married Adolescent Girls' Empowerment(IMAGE), is the project specifically designed to empower married adolescent girls, who are one of the unattended children in the society. They are neither treated as children nor an adult, no one cares for their rights, security and opportunities. This project is presently implemented in 5 districts of Karnataka with the objective of providing, health, education, skill development, sexual and reproductive health and rights(SRHR), social protection and protection from gender-based violence.
Our operational area
The project is implemented by a consortium formed with 6 civil society organisations in 5 districts of Karnataka, with the financial and technical support of Terre des Hommes – Netherlands (TdH-NL). It covers identified 3,077 girls who were married before the age of 18 years with the overall objective of 'Empowering Early Married Girls towards Social and Economic Independence by collectively Involving Government, CSOs, and Community to be responsible in addressing the needs towards sustainability'.
ARPANAM TRUST covers 600 Early Married Girls (EMGs) from 11 Grampancyats under Bagepalli Block in  Chikballapur district.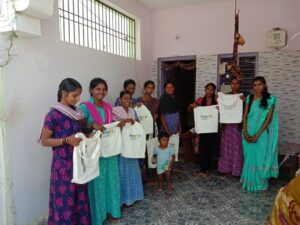 The specific project objectives are;
To facilitate available health and social security services to early married girls and prevent gender-based violence & adolescent pregnancy.
To facilitate increased access for early married girls to secondary education and job-oriented vocational training.
Being the project addressing the community issue, we are partnering with various agents of change from the ASHA Workers, Anganwadi teachers, Health staff from PHC, elected community leaders, religious leaders, Block and district level Government officials. The programme intends to create lasting behaviour changes of EMGs, their spouses and their families. The general public and media are unable to understand the rights of adolescent EMGs and the subsequent need to protect these girls from harmful circumstances. 
Later, the project intended to expand the operation to another 2400 married adolescent girls in neighbouring 2 districts. District Statistics can be given here by a particular organisation.
What do we do?
We are working in  five areas of project interventions with Early Married Girls (EMGs)
Sexual and Reproductive Health and Rights (SRHR)

– The project creates awareness to EMGs on reproductive health, menstrual hygiene, avoiding early union and help them to postpone their pregnancy and spacing between the pregnancy.

Education

– EMGs who are interested to continue their formal education are either re-enrolled in the schools or supported to write their exams privately. Tutorial support and education materials are provided to them from the project. Opportunities created for future livelihood by provided job Oriented Vocational training to interested EMGs.

Health and Nutrition –

The project creates health awareness to EMGs and vulnerable girls, also provides health services and referrals to EMGs

Gender based violence (GBV)

– The project supports the EMGs against Gender Based and Domestic violence by creating legal awareness and referral services. It also works with the spouses and family members of EMGs for behavioral change and norms .

Social protection

– Advocating with the Government and other stakeholders to ensure access of various welfare schemes and entitlements available for the married women. Support to EMGs to access general civic IDs and entitlements.
IMAGE Next:
" Nurturing Movement of Girls and Young Women as Agents of Change to Ascertain their Rights"
How it was born out of IMAGE
At present in the IMAGE project, we are only covering 3077 EMGs in 5 districts, but there are many more EMGs across the state of Karnataka to address. As per our advocacy impact is concerned, we are having less impact at the state level as compared to the village, Block and district level. So to scale up our reach and to have a significant impact at the state level, this project was born.
Project Goal
To empower girls and young women, who are victims and survivors of early child marriage to improve their access to rights, opportunities and services in Karnataka, India.
Operations and scale
In 5 years, the project will work among 15000 EMGs and survivors from 15 districts across Karnataka.
Key results
-At least 15,000 target girls and women are enrolled/ on-boarded in the movement by end of the project 
– At least 100 change agents (representatives of target girls and young women) capacities are build to self-advocate effectively and to shape the broader dialogue around their rights and access to services
 – At least 100 personnel from Government – education, health, women & child development, social welfare, law enforcement and judiciary sensitised on the representation and respond to voice of these women in Karnataka 
– At least 50 Civil Society Organisations are sensitised and engaged in Movement building
Geographic location
At present through the IMAGE project, our presence is in 5 districts of Karnataka (Bidar, Bagalkote, Belagaum, Chamarajanagar and Chikballapura). These 5 districts will be the regional movement unit, they will cover another 10 districts adjacent to them where the child marriage is high. It works through a consortium.
ARPANAM TRUST presently covering 2 more districts (Kolar & Bengaluru Rural) in addition with Chikaballapura.
About the  Consortium
It is a consortium of 7 organizations. Where Vidyaniketan (Lead of Consortium, Secretariat of proposed movement) and 4 NGO partners are REACH in Bagalkot district, SEVAK in Belgaum district, PMSR in Chamarajanagar district and ARPANAM TRUST in Chikballapur district. CRT is the Advocacy and Communications Resource partner and Terre des Hommes Netherlands is the Co-funding and technical assistance partner. The major funding is being done by the Comic Relief Fund(CRF), UK. 
Project Interventions across five thematic areas
We are working on five areas of project interventions with EMGs and Survivors, which are as follows
Movement building and strengthening:

The project builds a strong and growing movement by identifying and organizing EMGs and young women married before 18 years through a membership drive and strengthen them on child marriage issues.

Norms and Behaviour Changes at Family and Society level:

Awareness and sensitization to families of target population on gender, SRHR, health and nutrition of girls and young women through the campaigns and meetings. 

Leadership development and capacity building:

Identify and strengthen selected girls and women leaders as change agents to spearhead the movement  

Engagement with Government and other stakeholders:

Interface between girls & young women and Government & other stakeholders with the active participation of Government and CSOs on issues that are being strategic to the project.

Evidence gathering and communication strategies for influencing Government, community and other stakeholders:

Studies to gather pieces of evidence around the issues faced by the target population, their needs, and demands, and landscape of existing interventions